---
ProjectionTools Training
Welcome to our ProjectionTools training hub
At domeprojection.com® we understand the importance of being well-prepared to work with ProjectionTools. Our workshops provide customers and integrators with the essential knowledge and skills to utilize ProjectionTools effectively.
Training at our site
Our training units are designed to cater to your specific needs, offering individualized and modular sessions. Whether you prefer individual or small group training, we ensure a personalized learning experience. Choose between on-site sessions at your location or visit our office in Magdeburg. 
During the training, we provide a comprehensive blend of theoretical background knowledge and hands-on practical skills. Our experienced instructors will guide you through the intricacies of ProjectionTools, ensuring you gain a deep understanding of its features and functionalities.
Remote software training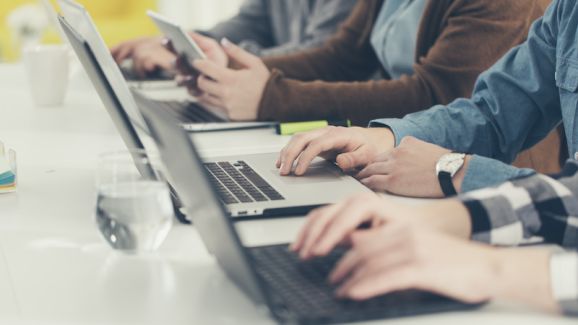 Don't let time or location constraints hold you back. With our ProjectionTools Remote Training, you can learn at your own pace, wherever you are. All you need is a computer and a stable internet connection to get started.
We provide all the necessary training materials to support your learning journey. And rest assured, our team is available to assist you even after you complete the training, ensuring you have ongoing support.
Ready to take the next step? Schedule an individual appointment for your remote training session.
Training modules
Module 0 – Demo Training (remote)
Sign up for our free 1h remote training. Explore the possibilities for creating 2D projections and try out  Creator, Mapper2D and PatternGenerator.
This training does not require to have any projection equipment at hand.
Module 1 – Single Cam AV
Single Cam AV module is aimed at users with single camera systems.
This course will introduce you to the system calibration by using the PatternGenerator as well as the Creator.
After successful completion of module one you are able to set up simple installations and to perform 2D Mapping.
Module 2 – Pro AV
Pro AV training is based on the Single Cam AV module.
We will deepen the knowledge about using Creator and Mapper 2d. You will learn to measure projections with several cameras and get to know which role markers are playing in this context. 
As a result you can export and play back fully corrected videos with mediaplayer software, such as Watchout.
Module 3 – Pro Sim
Pro Sim is based on the Single Cam AV module.
We train the field of view and viewpoint settings and their relation to simulation software.
After graduation, you can work with markers and measure multi-camera systems, as well as export data suited for 3-dimensional scenes. With the acquired abilities, you are able to set up your simulator visual by yourself.
Module 4 – Integrator
We impart you as an integrator with all know-how you need about the ProjectionTools.
After finishing the module, you can professionally use each ProjectionTool to work on a client's project. After graduation of the workshop you will be able to plan and set up the AutoAlignment installations independently.
Module 5 – AutoAlignment
This training is intended to customers who already have a completely installed projection system and want to realign it by using the already installed cameras.
The workshop will take place on-site at the installed projection system.
Earn your workshop certificate of participation!


Participating in our ProjectionTools workshops is a valuable opportunity to enhance your skills and knowledge. Our workshops are thoughtfully designed to meet the specific needs and preferences of our customers, ensuring a tailored learning experience.

Upon successful completion of the workshop, you will receive a certificate of participation. This certificate recognizes your commitment and accomplishment, providing a testament to your newfound expertise. The certificate includes a detailed description of the workshop and highlights the knowledge and skills you have acquired.

Don't miss the chance to showcase your dedication and professional development. Join our ProjectionTools workshops and earn your well-deserved certificate of participation.

Take the first step towards certification today!